The story of Julie Prater stole the national spotlight about a year ago when the pregnant Texas mother discovered she had a cancerous tumor in her brain, and she refused chemo in order to protect her unborn child.
The first sign something was terribly wrong was in the early morning hours of May 28, 2014 when Julie got up to check on her 1 year old toddler son who was crying. On her way to his room, Julie collapsed in the grip of a full body seizure. Thankfully her husband heard her fall and called 9-1-1. Julie was rushed to the hospital via ambulance.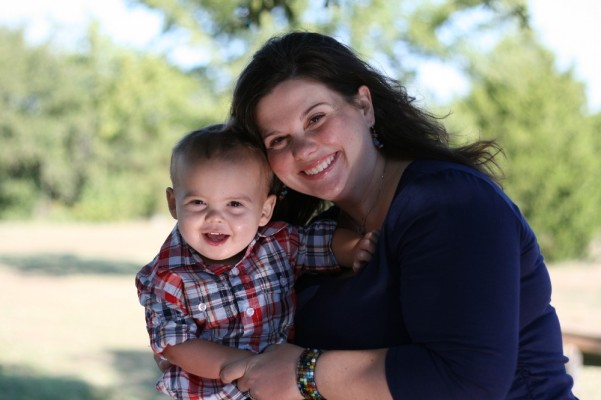 Julie, a nurse at Texas Health Presbyterian of Plano, was suddenly a patient in the very same hospital where she routinely helped so many others. She refused chemo, fearing the harshness of the treatment would harm her unborn daughter or cause a miscarriage.
"I am trying daily to keep my unborn child and myself safe," she explained. "Through prayer, support of family and friends, and the help of my team of doctors, as well as my husband, we are making the best choices we can as we go along."
Weeks later, a risky yet mandatory neurosurgery diagnosed Julie with a Grade IV glioblastoma multiforme, the most aggressive type of brain tumor. With a median survival rate of just 14 months, Julie, and her husband Luke were devastated. Still, placing their trust in God, they postponed chemo.
Nearly four months later, Julie's condition had deteriorated much further. She began having more and more full body seizures, and daily leg seizures that left her unable to walk. On October 7, 2014, while 27-weeks pregnant, Julie began radiation treatments.
"For my sake and my baby's sake treatment became mandatory … I am fighting not only for my life but for my baby girl's life as well! We plan to deliver her towards the beginning of December before I start chemotherapy," Julie said in an online journal entry.
Julie also shared a Bible verse from Romans 5:2-4. "… we have peace with God through our Lord Jesus Christ, through whom we have gained access by faith into this grace in which we now stand. And we rejoice in the hope of the glory of God. Not only so, but we also rejoice in our sufferings, because we know that suffering produces perseverance, character, and hope."
In order to save Julie's life, a C-Section was scheduled at 36 Weeks, and June Lane Prater arrived on December 8, 2014 at 9:49 AM. The little girl was a healthy 6 pounds, but because she was a little premature, she had to stay in the NICU for a short while.
Regarding June's birth, Julie posted 1 Samuel 1:27 in her journal. "For this child I prayed and the Lord has granted me my petition that I made to Him."
Meanwhile, the tiny baby's brave mother began vigorous rounds of chemotherapy, and no doubt the most difficult trial of her life.
Today, one year later, Julie Prater is doing much better. The past 365 days have held countless tests, MRIs, round after round of chemo, and other painful treatments, but the courageous Texas mother who risked her life to save her child's is holding fast to her faith and her life.
Two weeks ago, on December 3, Julie had a very positive looking MRI that showed her tumor had shrunk. While not out of the woods, she is enjoying a short break from chemotherapy and some precious time spending Christmas with her kids.
"I have come that they may have life, and have it to the full." John 10:10b
In an online journal entry, Julie expresses her joy that despite so much suffering and so many setbacks, she is here to see little June turn 1 year old, and watch her firstborn son grow and develop into a healthy and happy little boy.
"Glory to God and these small successes I'm able to be a part of!" she said. "Love to all …this holiday season, to celebrate … Jesus' birthday, successes, and looking forward to the adventure of 2016!"
You can donate to help Julie and Luke cover medical expenses, child care, and time away from work, at their GoFundMe Page.
Keep up with Julie's online journal at CareBridge.